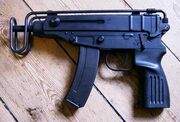 The Škorpion vz. 61 or the Skorpion SMG 61 is a Czechoslovakian-built submachine gun, a sleek way to slaughter. It was the Long-Range weapon of the KGB.
Description
[
]
Weight: 2.87 lbs
Length: 20.4 in
Barrel Length: 4.5 in
Cartridge: .32 ACP
Action: Blowback, closed bolt
Rate of Fire: 850 rounds/minute
Muzzle Velocity: 1,050 fps
Effective Range: 27 yards
Feed System: 10 or 20-round curved magazine
Uses
[
]
The Skorpion was usually reserved for highly trained operatives, like the KGB, although some found their way into the hands of terrorists. Because of this, at one point, American soldiers were ordered to execute anyone found with in possession of the weapon.
In show
[
]
This weapon was tested against the CIA's Ingram MAC-10 in eliminating five targets. The Skorpion delivered three kills but left one wounded and one alive in 12 seconds while the MAC-10 delivered five kills in 20 seconds. The edge was given to the MAC-10 for its heavier .45 caliber, 30-round magazine, faster rate of fire, and better accuracy.