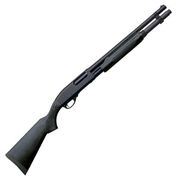 The Remington 870 is a pump-action shotgun, 7 and a half pounds of mind blowing death. It was the Close-Range weapon of the GSG-9.
Description
[
]
Range: 50 yards
Ammo: 12 gauge
Mag: 8 rounds
Weight: 8lbs
Length: 37.25 to 50.5 inches
Barrel Length: 18" to 30" inches
Cartridge: 12-gauge, 20-gauge
Action: Pump
Uses
[
]
The Remington 870 is widely used by the public for sport-shooting, hunting, and self-defense. It is also commonly used by law enforcement and military organizations worldwide. Over 11,000,000 have been produced as of 2017. The Remington and the Mossberg Shotguns are the most mass produced shotguns in the world.
In the show
[
]
In the show, it was tested against the SWAT's Benelli M4 Super 90. The SWAT were given the edge, however, due to it's semi-auto capabilites.