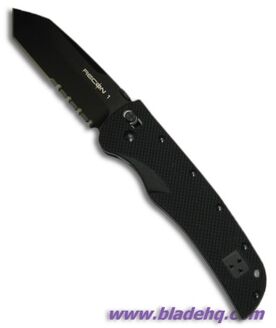 The Recon-1 knife is a tactical folding knife. It was used as the Close-Range edged weapon of the Navy SEAL.
It utilizes a very strong lock which is released by the button on the side and has steel liners to prevent the blade from twisting out of the handle under stress.
It opens by means of a washer on the back of the blade which allows the operator to open the knife with one thumb. It has no springs or actuators built into the design and so is not classified as an automatic knife.
This knife is currently legal to carry in most states.
It is currently made by Cold Steel Knives in California.
Description
[
]
Fold-out blade
Stainless steel
Weight: 5.6 oz
Length: 9.33 inches
Blade Length: 4 inches
Uses
[
]
The Recon-1 is a multipurpose folding knife with a tanto-point blade in the show.
It also comes in a clip point and spear point.
It is primarily used for utility tasks, but can also be used for close range combat.
The heavy tanto point is designed to be able to pierce light metal, such as oil cans or canned food without bending or breaking.
The saw-tooth edge is often used for engineering purposes