The Mk. 2 "Pineapple" Bomb is an American made fragmentation grenade. It was the Long-Range weapon of Al Capone's gang.
Description
Edit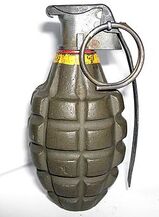 Frag radius
: 50 feet
Explosive material: 2 oz of TNT
Outer material: cast iron
Weight: 21 oz
The American Pineapple Grenade originated in the first modern shrapnel grenade: the English 1915 Mills Bomb. 34 million Mills Bombs were used in WWI. The Mills Bomb would be used as late as the 1980s: especially since it could be used as a Rifle Grenade for additional range.
Developed in 1918, the Mk. 2 became the standard hand grenade of the US military in 1920 and saw service into the 1960's.
Some Pineapple Grenades could be fired from a rifle; becoming a Grenade Launcher. The grenade would be inserted into a cup shaped attachment. Then the explosive force of a blank round would propel it about 60 meters. These attachments are available for most modern assault rifle designs, but use customized rounds rather than the traditional grenade.
Meat grease and fat (especially from bacon) can be converted into glycerin that can be used for explosives. In WWII, the US Army implemented a propaganda campaign aimed at asking American citizens to stockpile and donate their grease to 'Official Fat Collecting Stations' (which included meat dealers and butcher shops). Disney even made a propoganda short called Out of the Frying Pan Into the Firing Line explaining the importance of fat donation.