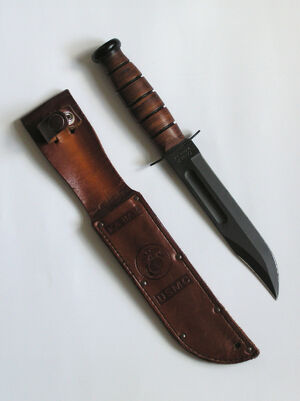 The KA-BAR Knife is a fighting and utility knife commonly issued to American armed forces. It was the Close-Range Weapon of the Israeli Commando. The French Foreign Legion used a version known as a Camillus.
Description
[
]
The KA-BAR is similar to a Bowie knife, with a 7-inch clip point blade made from 1095 carbon steel. The handle has a grip made from leather washers or Kraton (a non-slip rubber substitute). The knife has an overall length of 11¾" (30 cm) and weighs about 1.1 lbs (.5 kg).
Stats
[
]
Fixed blade
Weight: 1 lb
7 inches
Carbon steel
History
[
]
The name "KA-BAR" came into usage when the company received a poorly written letter describing how the knife had saved the user's life during a hunting trip by killing a bear when his gun failed to do so. All that could be made out of the letter was the letters "k a bar", presumably fragments of "kill a bear". The company later trademarked the word.
Knives like the KA-BAR came into use during World War II, when US Marines found that the older trench knives from World War I where poorly suited for their needs. Millions of these knives were manufactured during the war by several companies, including one which would later be renamed "KA-BAR". After the war, the US military continued to use these knives. Various models are also popular with fishermen, hunters, hikers, and other outdoorsmen.
Uses
[
]
Including its use as a melee weapon, the KA-BAR is used to open cans, dig trenches, and cut wood and roots.