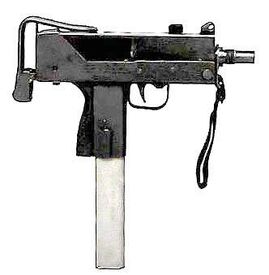 The Ingram MAC-10 (Military Armament Corporation Model 10) is a highly-compact, blowback operated machine pistol developed by Gordon B, delivering death 900 rounds a minute. It was the Long-Range weapon of the CIA.
Description
[
]
Weight: 6.26 lbs
Length: 10.7 in
Barrel Length: 5.7524 in
'Cartridge: 9x19mm Parabellum/.45 ACP
Rate of Fire: 1,090 rounds/min (9mm)/1,145 rounds/min (.45)
Muzzle Velocity: 1,200 fps (9mm)/918 fps (.45)
Range:: 55 yards
Feed System: 32-round detachable box magazine (9mm)/30-round detachable box magazine (.45)
Rate of Fire: 900 rounds per minute
Uses
[
]
The MAC-10 was used by American Special Forces in the Vietnam War, and has seen use across the globe. It's often claimed to be the most reliable submachine gun ever built and is popular primarily with special forces and South American militaries. Mike Baker told the DW crew that it was built in the early 60s and quickly co-opted by criminal organizations and narco-traffickers.
In Show
[
]
This weapon was tested against the KGB's Skorpion SMG 61 in eliminating five targets. The Skorpion delivered three kills but left one wounded and one alive in 12 seconds while the MAC-10 delivered five kills in 20 seconds. The edge was given to the MAC-10 for its heavier .45 caliber, 30-round magazine, faster rate of fire, and better accuracy.