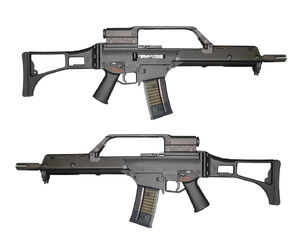 The Heckler & Koch G36 is a German-made assault rifle, engineered for maximum impact with minimum weight. It was the Mid-Range weapon of the GSG-9.
Description
[
]
Range: 650 yards
Weight: 8 lbs
Length: 39.3 in stock extended; 29.8 in stock folded
Barrel Length: 18.9 in
Cartridge: 5.56x45mm NATO
Action: Gas-operated, rotating bolt
Rate of Fire: 750 rounds/min
Muzzle Velocity: 3,018 ft/s
Feed System: 30-round detachable box magazine
Sights: Reflex sight with 1x magnification, telescopic sight with 3x magnification
Uses
[
]
The G36 was developed in the early 1990's, following the unification of East and West Germany. It was accepted into the German military in 1997, replacing the H&K G3 battle rifle.
In show
[
]