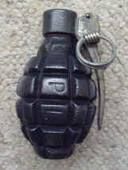 The F1 Grenade is a Soviet-made hand grenade. It was used by the Viet Cong, in combination with the POMZ-2 Mine, making a savage surprise.
Description
[
]
Frag Radius: 35 yards
Weight: 1.5 lbs
Length: 5.2 inches
Diameter: 2.2 inches
Filling: 2 oz TNT
Casting: Steel
Use
[
]
In addition to its use as a grenade, the Viet Cong often used it to booby trap mines, so that if the mine was discovered and removed, it would set off the F1 grenade.