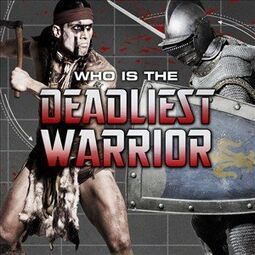 Deadliest Warrior is a television program that pits two ancient or modern warriors against each other in a simulated battle using information gathered from various tests performed on the warriors weapons and techniques. Data is collected about the weapons, then is uploaded into a simulation program. The results of the program determine the "deadliest warrior" of the two in the episode, then the fight is dramatized by actors, showing who won the episodes battle.

The show is hosted by Geoff Desmoulin (biomedical scientist, high speed camera operator, and karate black belt), Dr. Armand Dorian (trauma expert and medical consultant), and Max Geiger (simulations programmer). The narrator is Drew Skye.
The show airs in the United States and has been from April 7, 2009, until the present. It shows only on the channel Spike. So far, there have been 2 seasons, Season 1 having a total of 10 episodes, and Season 2, which first aired on April 20, 2010, having 13 planned episodes. Season 3 came out July 20,2011.